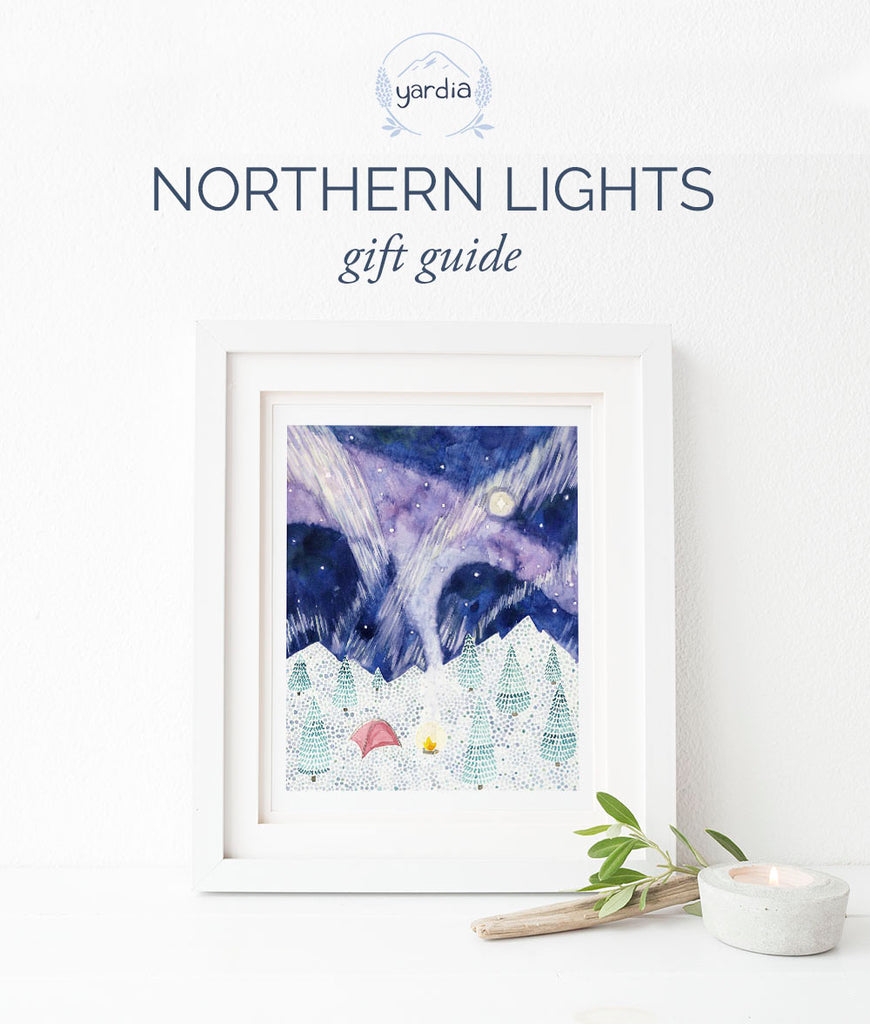 One of the most awe-filled experiences of my life was seeing the Northern Lights while floating in an outdoor hot spring pool on a frigid November night in Iceland. While I can't quite imagine a better introduction to the aurora borealis, I've tried to express that kind of pure wonder in my artworks since then. 
If you're looking for some Northern Lights-inspired art or gifts this holiday season, here are a few of my favorite pieces inspired by the natural wonders that create such a strong sense of awe. 
Winter Camping Art Print
In this imagined mountain scene, I was challenged with the watercolor to show the cozy smoke from the campfire wishing up and combining with the Milky Way and Northern Lights. The night sky is the focus here, dwarfing the campfire and tent in the snow.
You Are A Warrior card
This seems to be a message that many of you have needed to see recently, for honoring passed loved ones to celebrating your own wellness journey, to parents encouraging young budding feminists you have been drawn to this piece in particular. While I've written before about the specific meaning and inspiration behind this artwork before, the night sky with its starry message of empowerment, is set against the galaxy colors of a sky in action.
Other galaxy art:
Total Solar Eclipse art print
Inspired by another celestial event that captivated the nation, I painted this piece at the time of the Great American Eclipse of 2017. It's still one of my favorite paintings that I've made, with the stylized moon backed by rays of the sun emanating within a painterly halo.
You are the universe card
This love card features mother moon in her crescent form, reaching her arms across the sky to the sun. It's a reminder of just how much we all encompass within ourselves, the entirety of the universe.
And there you have it! A few of the many Northern Lights And galaxy-inspired artworks from the Yardia collection. And there's more! Just visit the
Yardia online shop
to browse even more celestial themed products, from cards to wrapping paper. 
Want to be the first to shop new designs?
Sign up for the Yardia mailing list
.