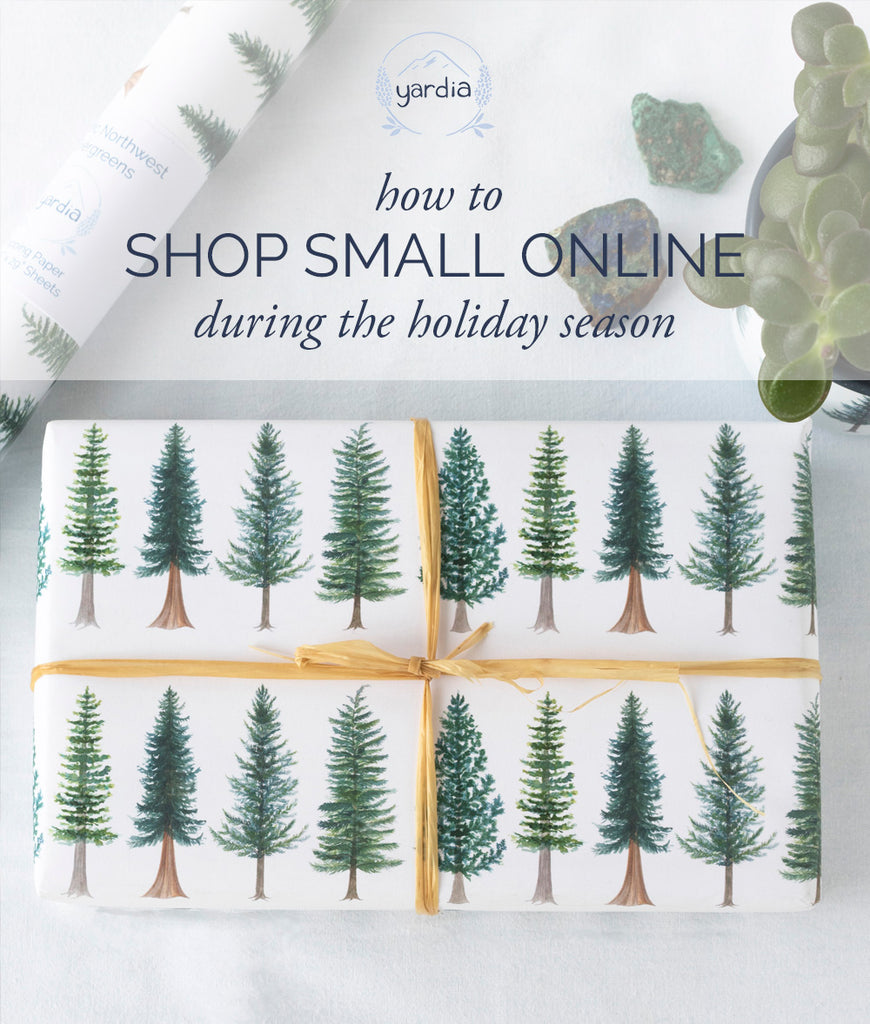 Shopping small online for the holidays isn't the same as shopping from the big ecommerce sites. Often, you're buying from a single person who is handling making the product, packaging it and shipping it to you on their own. As a small maker business owner who has gone through a few holiday seasons now, here are a few tips I've learned from both my experiences as a shopper and from behind the scenes of running my online business. Hopefully this will save you any unexpected results and make your holiday online shopping a bit more peaceful!
Making a purchase: 
Read all available information in the listing.
You should always be able to find all of the information about where the product is made, processing time and more in the listing information, but some platforms, including Etsy will hide some of this information with a "learn more about this item" button, or something similar. It's always worth it to read everything, especially when purchasing from smaller companies who are often a single person taking care of all parts of the process! 
Note if there is a processing time.
When you're purchasing something handmade or from a small business, some items may have a processing time in which the product is made. In my shop, glass ornaments, ceramic mugs and phone cases fall into this category. I work with a printer to have each product made as it is sold, so during the holiday season these products can take around eight business days to produce. Although I put this information in multiple places in the listing, photos and order confirmation, I'm always surprised by how many people either don't read or don't believe the accuracy of the processing time and then get worried when their purchase hasn't shipped by the next day. 
Include a gift message.
If you're sending the product to a different address as a gift, see if there's an option to include a gift message. Small companies have a variety of strategies for these messages, from including on a packing slip, to hand-writing the message on a branding enclosure. I recommend signing off the message with your name, too, since your information won't necessarily be located anywhere else in the package if it's delivered to a different person. 
US Shipping: 
Free shipping:
This is usually the slowest option, so if you're on a deadline, choose a different option with a more reliable delivery date. However, if you are shopping early (before Black Friday), definitely feel free to go with this option if a little extra shipping time doesn't matter!
Shipping Times:
Be patient and know that due to heightened volume of packages being shipped during the holidays as well as unpredictable winter weather, there are never any guarantees that your package will arrive on time. If you're really concerned about a deadline, purchase locally from an independent store or a craft market instead. 
UPS:
If you need your order shipped by a particular time, see if UPS is an option. This is often more reliable than USPS, and you can also request the package to be delivered to an alternate location at your home like a backyard deck instead of the front door if you're concerned about package theft. 
Delayed Shipments:
USPS: If your shipment seems delayed, try these tricks first before contacting the seller. This will ensure that any updates or notifications about your shipment will come to you directly instead of having to go through the online seller first. The seller doesn't have any control over the shipment after it leaves their hands, but there are a couple of options that often work to get a package moving.
Text/Email Alerts: When you click on your package's tracking number, sign up for text or email alerts on the delivery below the tracking information, or sign up in advance for informed delivery. Other online makers and I have had pretty great luck with text and email alerts to get a package moving. I recently did this for an online purchase I'd made that seemed to just be sitting at the origin post office in the Midwest for several days. Once I clicked to request email alerts on the package, it suddenly started shipping and was delivered to my home in Seattle the next day.
Missing Mail: If a package is still not delivered, then fill out a missing mail form online. You might have to contact the seller to get the origin address information, but it's best for you as the buyer to do this so that any information or notifications from USPS come to you. This will get the process started of USPS searching for your missing package, if it's been misdelivered or is stuck somewhere in the system.
Visit your zip code's post office: My local post office has really great, helpful employees. It might be helpful to call or visit your post office in person to request help. However, as we get further into November, and certainly between Black Friday and Christmas, I don't recommend this option unless you're prepared to stand in very long lines or wait a very long time on the phone. USPS is just too busy in the local offices, and I think we should cut the employees a bit of slack.
These are only a few of the tips I've found to be helpful for online shoppers during the holiday season. The last one I can leave you with is to practice kindness. When you shop small online, keep in mind that you're chatting with a human being, and usually the owner of the business, not a bot or middleman. If we pause and consider how we're communicating with empathy from all sides, I think it would go a long way in creating a more peaceful holiday season.