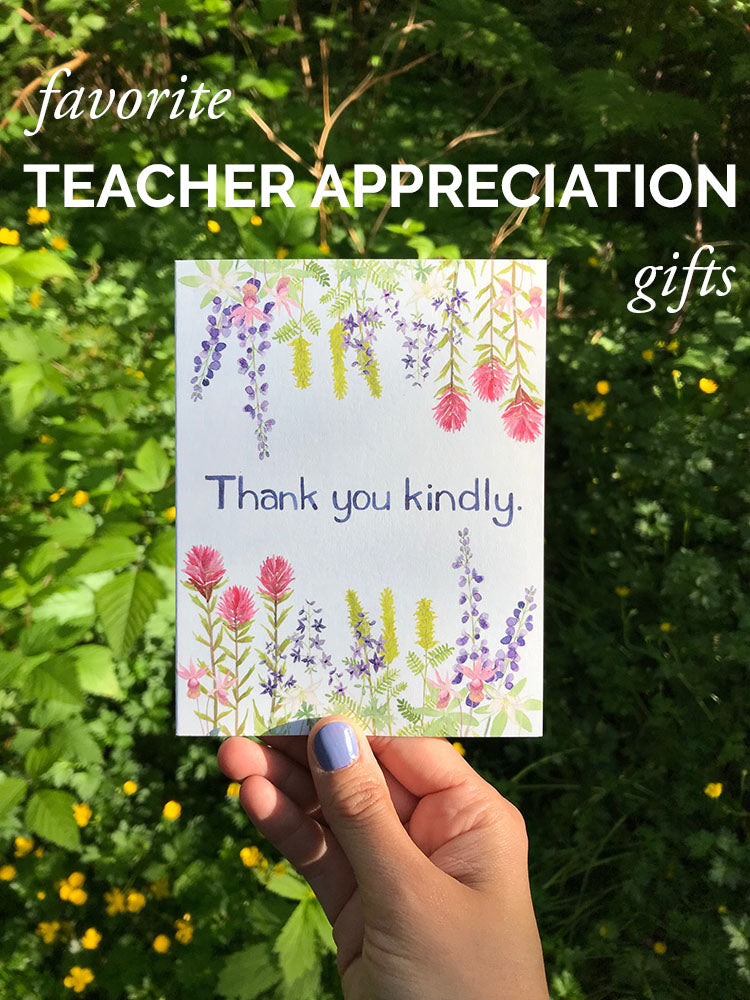 Here are a few end-of-year teacher gift ideas that your child's teacher will truly appreciate. As a teacher, my favorite gifts to receive are simple combinations that share a student's or family's gratitude for the end of another successful school year. 
One thing that you might not know about me is that in addition to being the owner and illustrator of Yardia, I've also been working as a middle school art teacher for 12 years, and am just about finish up my tenth year at my current school. Over the years, my colleagues and I have received end-of-year gifts from many students and families.
So, what's my absolute favorite teacher appreciation gift?
Favorite Teacher Gift
My number one favorite teacher gift to receive is a thoughtful handwritten thank you card.
This is by far the most important part of the gift, and can be given on its own if you wish. My absolute favorite gifts that I've received as a teacher have been the thoughtful thank you cards that students or parents have given to me. Students who have written me cards that express what they learned from me and from the classes I've taught them are so much more meaningful than any other purchased gift they could give. In my classroom desk drawer, I keep a few of the most meaningful notes, letters and cards that I've received throughout my teaching career, and I know that other teacher friends do the same. On challenging days, we re-read these notes and remember why we chose to do this job in the first place. While I always love receiving cards from my students directly, I've also found very meaningful the few cards that parents have sent me as well, to tell me how I've made an impact on their children.
If there's one absolute must to include in a teacher appreciation gift, I think that a meaningful thank you card with a handwritten and thoughtful message is the most important thing to include. Consider the best-selling Ever So Grateful card from the Yardia shop.
Practical Teacher Gift
Want to add on a gift? Here's my simple pick:
A gift card to Starbucks or your hometown coffee shop.
Here's why I love receiving Starbucks gift cards from my students so much. Each year, I tend to receive gifts of Starbucks gift cards from several of my students and their families. This is a gift that I truly appreciate because, while I usually make my morning espresso at home, I use the gift cards to treat myself to a hazelnut latte about one a week during the school year. It's a little morning treat that helps me to keep up my energy and enthusiasm during the busy months of the school year, and I'm grateful for my students each time that I order my latte. My fellow teachers agree that this is also their favorite gift to receive from students for similar reasons. It's practical and more meaningful than you might expect!
Since I'm from Seattle, Starbucks is one of our local employers, but if your city has another more independent coffee shop that's near your school or easily accessible to most teachers, then that would make a great option as well.
Add-On Teacher Gift
Want something a bit more substantial than a gift card?
Add on a coffee mug from an independent maker. A great thank you option from the Yardia shop is the Mountains of Gratitude ceramic mug.
Or, help your teacher get ready for summer vacation with this wildflower camping mug.
Find even more end-of-year teacher appreciation gifts, such as thank you cards, camping mugs, art prints in the Yardia shop. Order today to receive your gifts in time for the end of the school year!