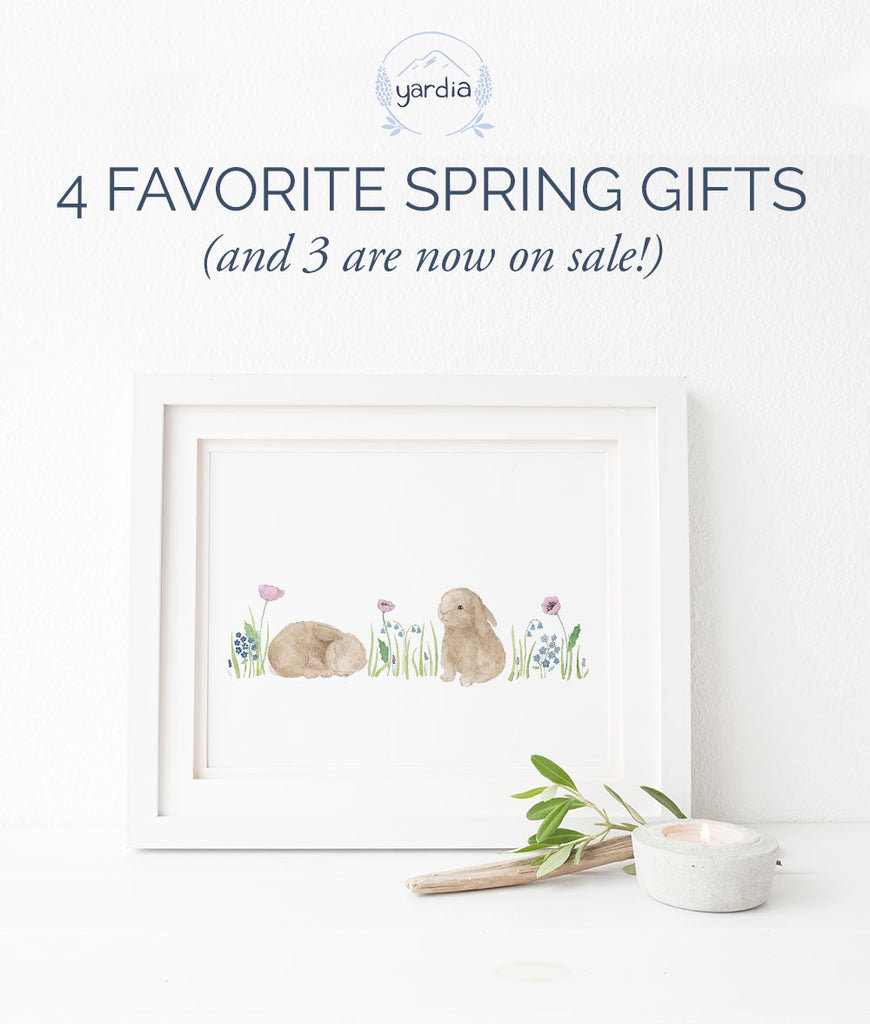 Happy Spring! The beginning of spring feels so welcome, especially after so many snowy days here in Seattle last winter, and warmer days seem to have arrived this week! I'm already seeing early bulbs and cherry blossoms beginning to pop up in my neighborhood.
To get into the seasonal mood, today I'm rounding up four of my most spring-like gifts from the Yardia shop, perfect for Easter, Mother's Day or other springtime birthdays and celebrations. Bonus: three of these products are now on sale!
The mug: Wildflowers Camp Mug

The wildflowers camp mug is perfect for spring, with its cheerful collection of Pacific Northwest wildflowers and their common and Latin names. Can't you picture how cute this mug would be in a grownup Easter basket along with some local coffee beans and dark chocolate bunnies?
The greeting card: Lamb Wishes
The Lamb Wishes card was inspired by my middle school dream of someday becoming a sheep and tulip farmer! It's a great best wishes card to keep on hand whenever you want to celebrate everyday occasions or the fulfillment of big dreams--especially this spring. Better yet, it's now on sale for only $3!
The art print: Sleepy Bunnies

I love how sleepy and cozy these two little watercolor bunnies are. On a blanket of fresh grass and flowers, this cute bunny art print will look great as part of your springtime home décor. This one is super limited with only 1 print left and on sale for only $12, so act quickly if you want to adopt these bunnies for your walls.
The wrapping paper: Wildflowers

No matter what gift you choose to give, wrap it up this spring with my wildflowers wrapping paper. With Pacific Northwest wildflowers set against a morning sky blue background, this elegant paper will elevate your gift into something truly special. But don't delay, since there are only 14 rolls left and they're on sale for only $6!
I hope these springtime cards, gifts and home décor get you into the mood for the season of growth and new beginnings!
Ready to discover more nature-inspired home décor, gifts and cards? Visit the Yardia shop.
Want to be the first to shop new designs? Sign up for the Yardia mailing list.