I'm Proud of Who You Are Card
Yardia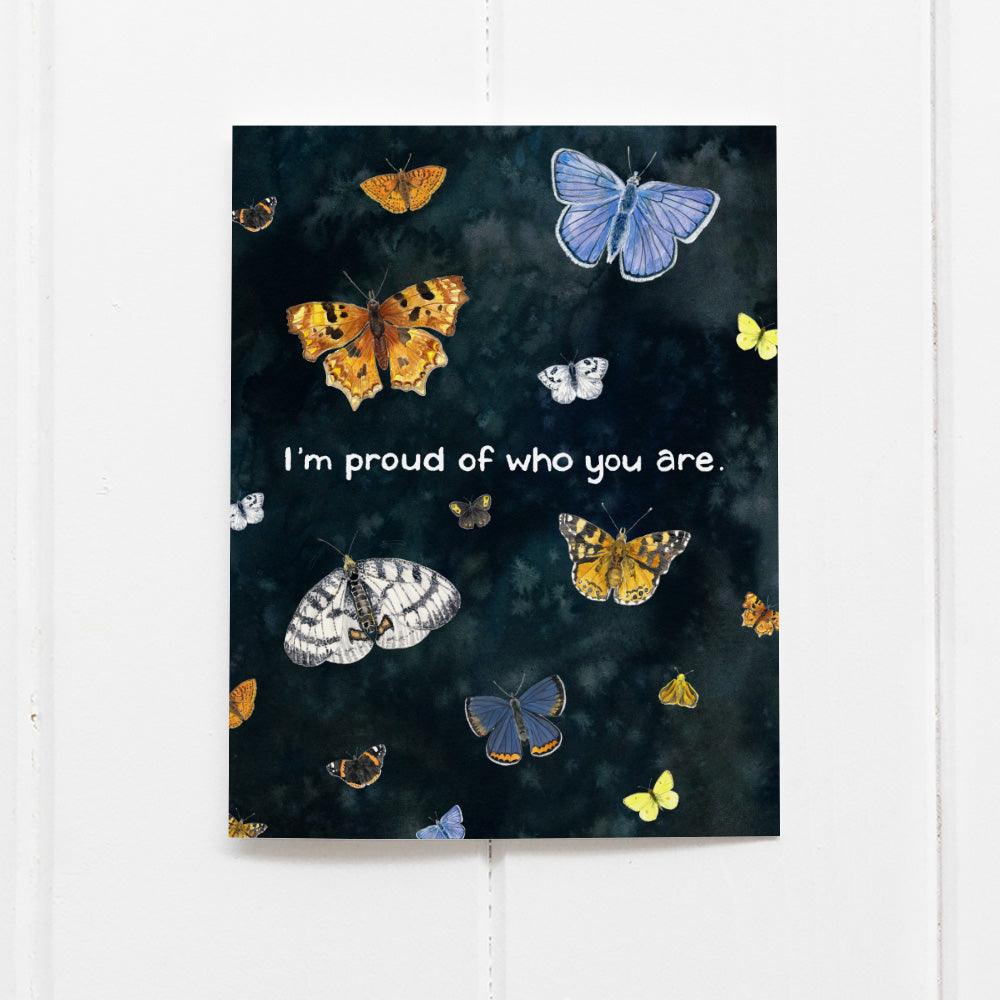 The I'm Proud of Who You Are card features an illustration of Pacific Northwest butterflies on a rich black background. Perfect to share your pride in a loved one's identity, for coming out, for transition, for graduation, a career change or any other occasion you'd like to express just how proud you are to have that person in your life. Illustrated and hand-lettered in watercolor by Seattle artist Brigida Swanson. 
The story behind this card: I used to be a middle school teacher, and I really wanted to design a card to honor my students who would be brave and share a part of their identity with me and other classmates or teachers. I particularly wanted to create a card in honor of my students who came out as trans during my teaching years.
I had the imagery down, I knew I wanted it to be these butterflies flying against a dark background, but I wrote and rewrote the message of this card, trying to simplify everything I wanted them to hear. In the end, it really all boiled down to this statement, that I'm proud of who you are. And no matter who we are, I think that's a message that a lot of us need to hear, for whatever parts of our identity that makes us, US.

This folded greeting card is professionally printed in full color on gorgeous high quality recycled cardstock using environmentally sustainable printing processes. It is left blank inside for your message and comes with a kraft envelope.

DETAILS:
Measures about 4.25 x 5.5 inches. A2 Size.
100% recycled paper (card and envelope).
Folded card, blank inside. Comes with kraft envelope.
Compostable protective sleeve.
Ships flat within an envelope (economy shipping, no tracking) or rigid mailer.
Due to monitor variations, colors may differ slightly from those on your screen.
Made in Washington State with Forest Stewardship Council certified sustainable printing.
Questions about shipping? Visit our Shipping FAQ's.
Other questions? Visit our general FAQ's.
About Yardia: 
Yardia is a gift and stationery company owned and operated by me, Brigida Swanson. I create nature-inspired watercolor home decor, gifts and stationery that help gardeners and hikers to express their intersectional identities and love the place they live. Learn more on our About page.
About the Artist:
I'm Brigida, a CHamoru and multiracial artist based in Seattle, Washington. Nature's like family to me. Creating art about nature is how I feel most connected to the ancestral values of my CHamoru heritage, and to the Pacific Northwest culture in which I was raised. It's why I create products that express a kinship with nature, so that we can all experience a sense of belonging and wonder.
this was so gorgeous and had a good amount of space for adding my own text. the shipping was extremely fast.