Hiking Is For Everyone Sticker
Yardia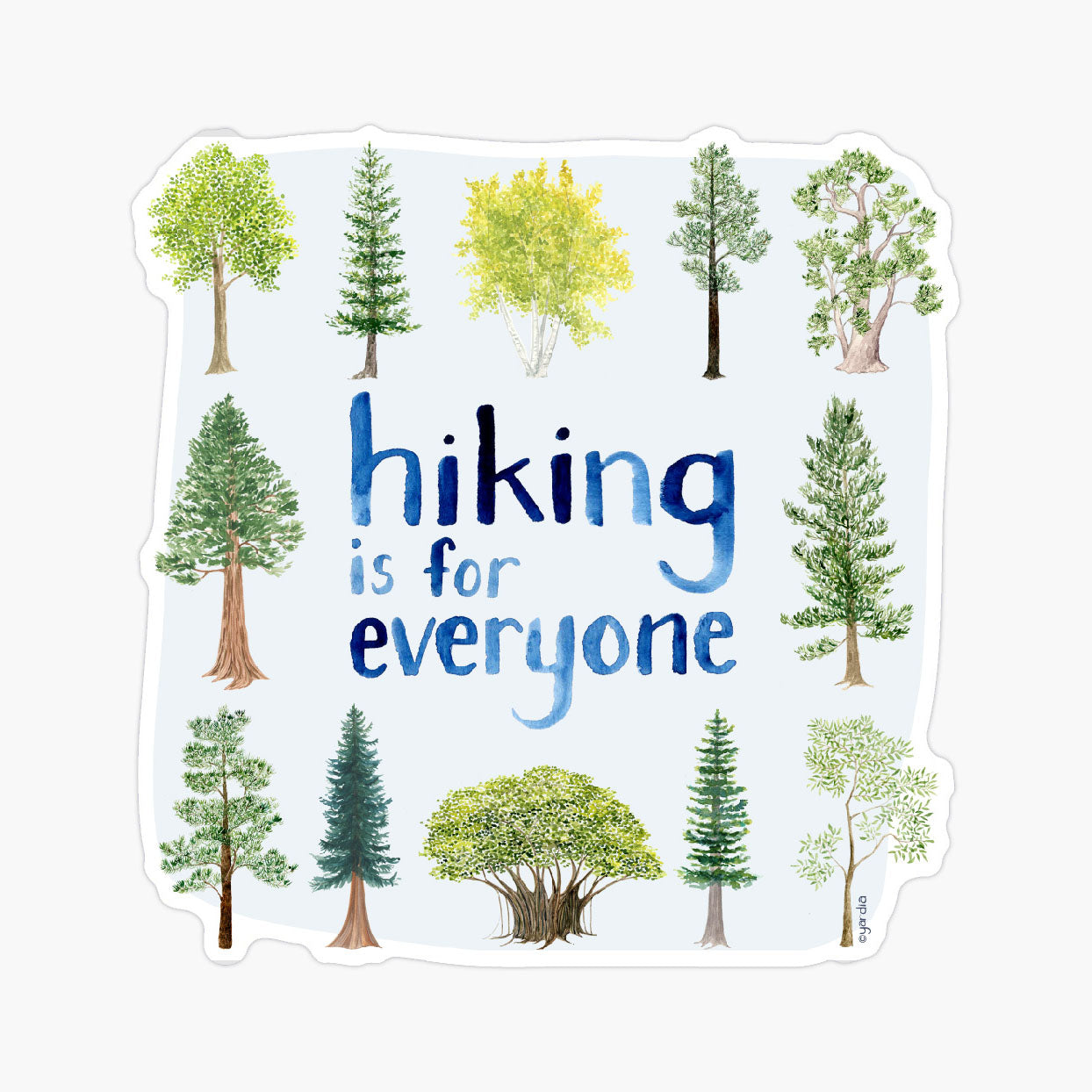 Celebrate an accessible, diverse and inclusive outdoors with this sticker. This vinyl sticker features watercolor illustrations of trees from a variety of regions, and hand-lettered text reading "hiking is for everyone". Perfect for your laptop or water bottle. Illustrated and hand-lettered in watercolor by multiracial Seattle artist Brigida Swanson. 
Make it a collection! This sticker goes great with these other stickers: Birding is for Everyone and Gardening is for Everyone.
DETAILS:

Size: 3" x 3"
Weatherproof, fade resistant and water resistant. Permanent adhesive. Dishwasher safe.
Made in the USA.
NO TRACKING on free economy shipping: First class mail. Ships in envelope with stamp, no tracking.
For tracking, please upgrade shipping to FIRST CLASS PACKAGE.
Copyright © Brigida Swanson 2022.
Questions about shipping? Visit our Shipping FAQ's.
Other questions? Visit our general FAQ's.
About Yardia: 
Yardia is a gift and stationery company owned and operated by me, Brigida Swanson. I create nature-inspired watercolor home decor, gifts and stationery that help gardeners and hikers to express their intersectional identities and love the place they live. Learn more on our About page.
About the Artist:
I'm Brigida, a CHamoru and multiracial artist based in Seattle, Washington. Nature's like family to me. Creating art about nature is how I feel most connected to the ancestral values of my CHamoru heritage, and to the Pacific Northwest culture in which I was raised. It's why I create products that express a kinship with nature, so that we can all experience a sense of belonging and wonder.