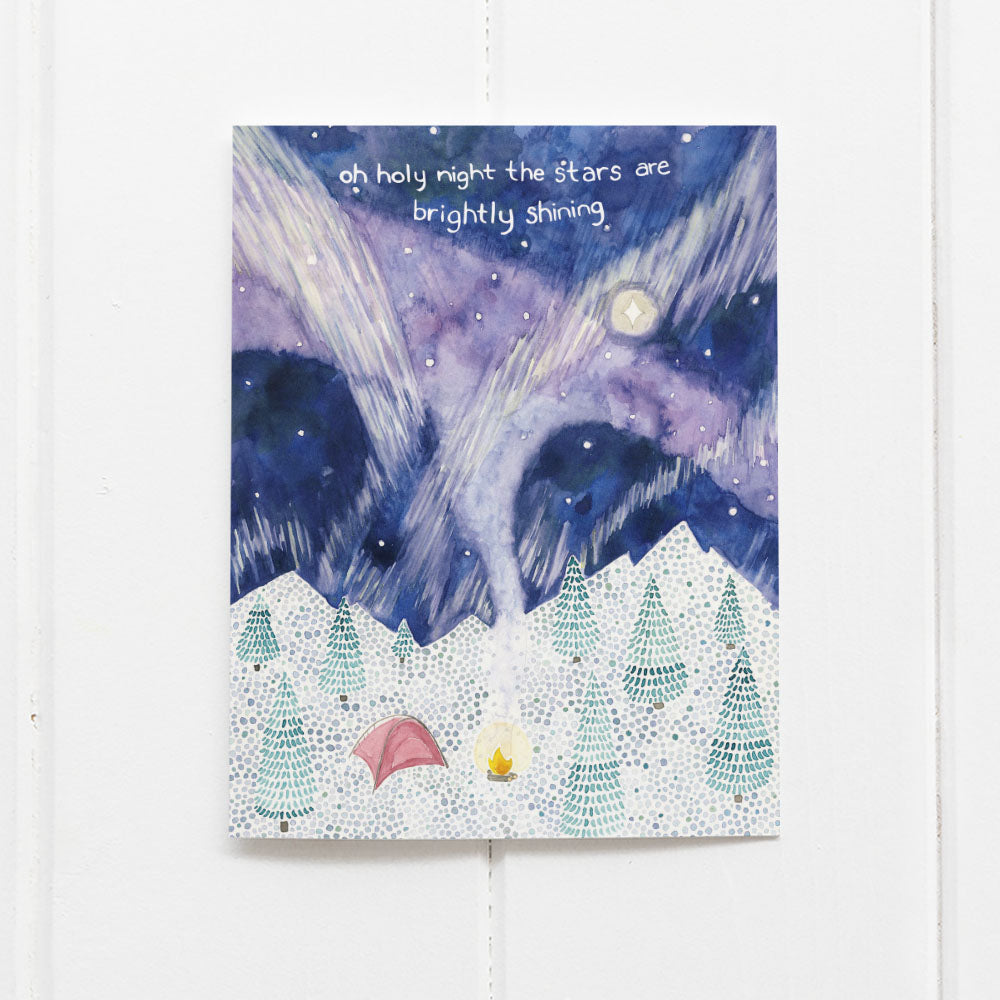 The camping Christmas card features a watercolor illustration of a winter camping site under the Milky Way and Northern Lights, with the quote "Oh holy night the stars are brightly shining." Celebrate an adventurous, free-spirited winter holiday with this watercolor illustration. This card is perfect to send to all your favorite outdoor enthusiast friends, ready to head to the mountains to enjoy the snow and stars.

Illustrated and hand-lettered in watercolor by Seattle artist Brigida Swanson. Measures 4.25 x 5.5 inches. A2 Size. 100% recycled paper (card and envelope). Made in USA (Washington state). Folded card, blank inside. Protected by compostable sleeve. 
DETAILS:
Measures about 4.25 x 5.5 inches. A2 Size.
100% recycled paper (card and envelope).
Folded card, blank inside. Comes with kraft envelope.
Compostable protective sleeve.
Ships flat within an envelope (economy shipping) or rigid mailer.
Due to monitor variations, colors may differ slightly from those on your screen.
Made in Washington State with Forest Stewardship Council certified sustainable printing.
Questions about shipping? Visit our Shipping FAQ's.
Other questions? Visit our general FAQ's.
About Yardia: 
Yardia is a gift and stationery company owned and operated by me, Brigida Swanson. I create nature-inspired watercolor home decor, gifts and stationery that help gardeners and hikers to express their intersectional identities and love the place they live. Learn more on our About page.
About the Artist:
I'm Brigida, a CHamoru and multiracial artist based in Seattle, Washington. Nature's like family to me. Creating art about nature is how I feel most connected to the ancestral values of my CHamoru heritage, and to the Pacific Northwest culture in which I was raised. It's why I create products that express a kinship with nature, so that we can all experience a sense of belonging and wonder.
Beautiful card! I'm sure it will be greatly appreciated by the giftee.
This is a magical card. I can't wait to send it.It arrived quickly.