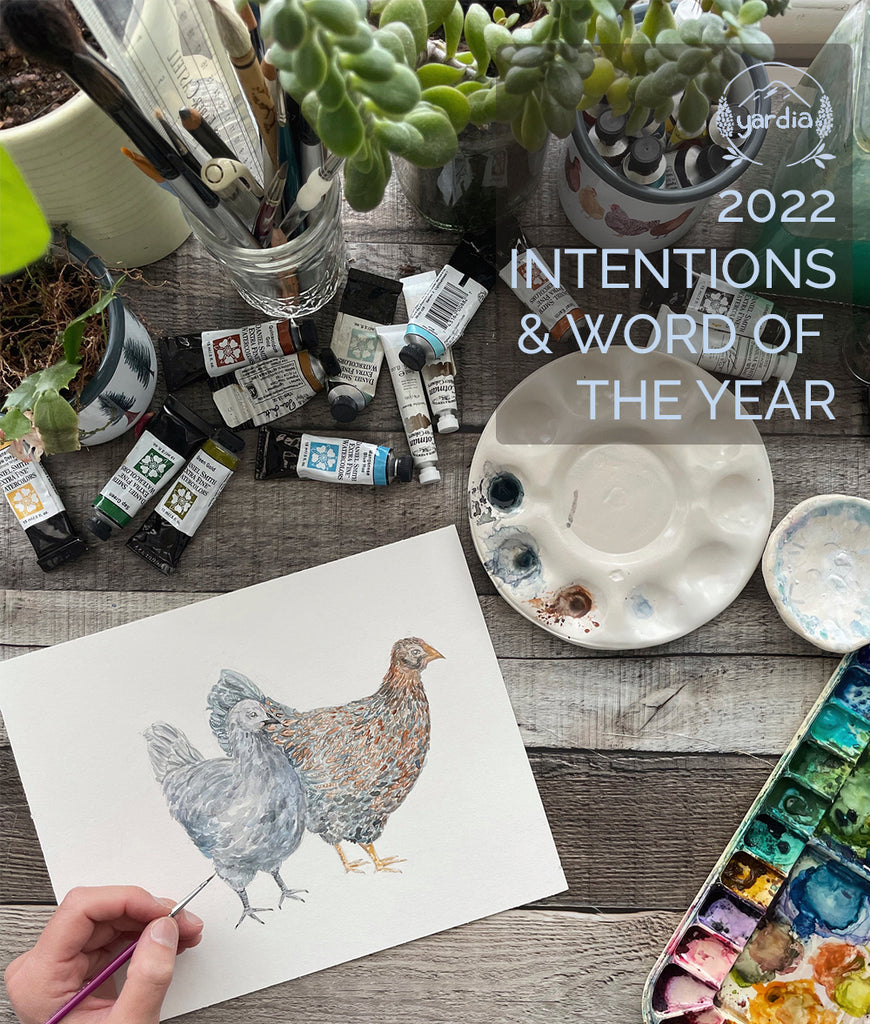 As 2022 commences, I'm slowly beginning to untangle the invisible knot of what the accepted path for business is, and figure out whether each step that I'm told I should do is something I actually have to do, or if I can find another way that works better for me.
Word of the Year: Inward
I never intentionally choose my guiding word for each year, instead I wait for it to come to me. The word inward arrived in my head in early December and it just felt right. It felt like a direct step forward from 2021's ease, and I like the direction it gives me for decision making--to go with my gut, to know the answers are already within me if I pay enough attention.
In 2021, I learned a lot more about myself and came to a level of self-acceptance even stronger than before. In arriving to that place, I began to understand that often the times when I felt like I should work harder, do better, or strive for perfection were really because I found myself in an environment or system that wasn't actually built for me. So instead of approaching 2022 from a "new year new me" perspective, this year I want to focus on not changing anything about myself (because we're all already good as we are), but finding ways to create systems and accommodations around me that will help me to fulfill my needs and live the life that is right for me, specifically.
I want to go inward as a form of self-inquiry, but more importantly as a way to look more critically at the habits, standards and norms of business that I've been socialized into seeing as the right way to do things. To always do a gut check, to ask more questions.
Even if I want my business to grow, what can that look like? What can I do differently? What would a thriving business look like without urgency? What might my thriving business look like if I fully cater to intersectional identities and speak to women of color? How can I begin to unravel everything that I've been taught is the norm and question whether it actually makes sense for me and my needs? How can I create exactly the kind of work I want to be doing? And what is enough?
Unraveling these questions means looking within myself, figuring out what I really need, and determining the paths to take that are best suited to the life I want to live. Because I've already learned that most of what we're taught about work isn't the only way to be successful, and that living a life that makes me happy has sometimes meant straying from the prescribed path and stepping over to the path that I'm called to follow. I can seek out the deer trail with the most gentle impact. It's already been there for years, but it might not be the one that explorers charted in the name of discovery and conquest.
Goals and Intentions
One of the ways I've learned that works best for me is seeing my goals as checklists (because I do love a list), so that's what will follow. My general themes for business goals are to get the house in order, rethink everything, and continue to work on accessibility and inclusion. And I threw in a few general to-do's for 2022 as well.
Get the house in order
Work on accessibility and inclusion:
Rethink everything
General Goals and To-Do's