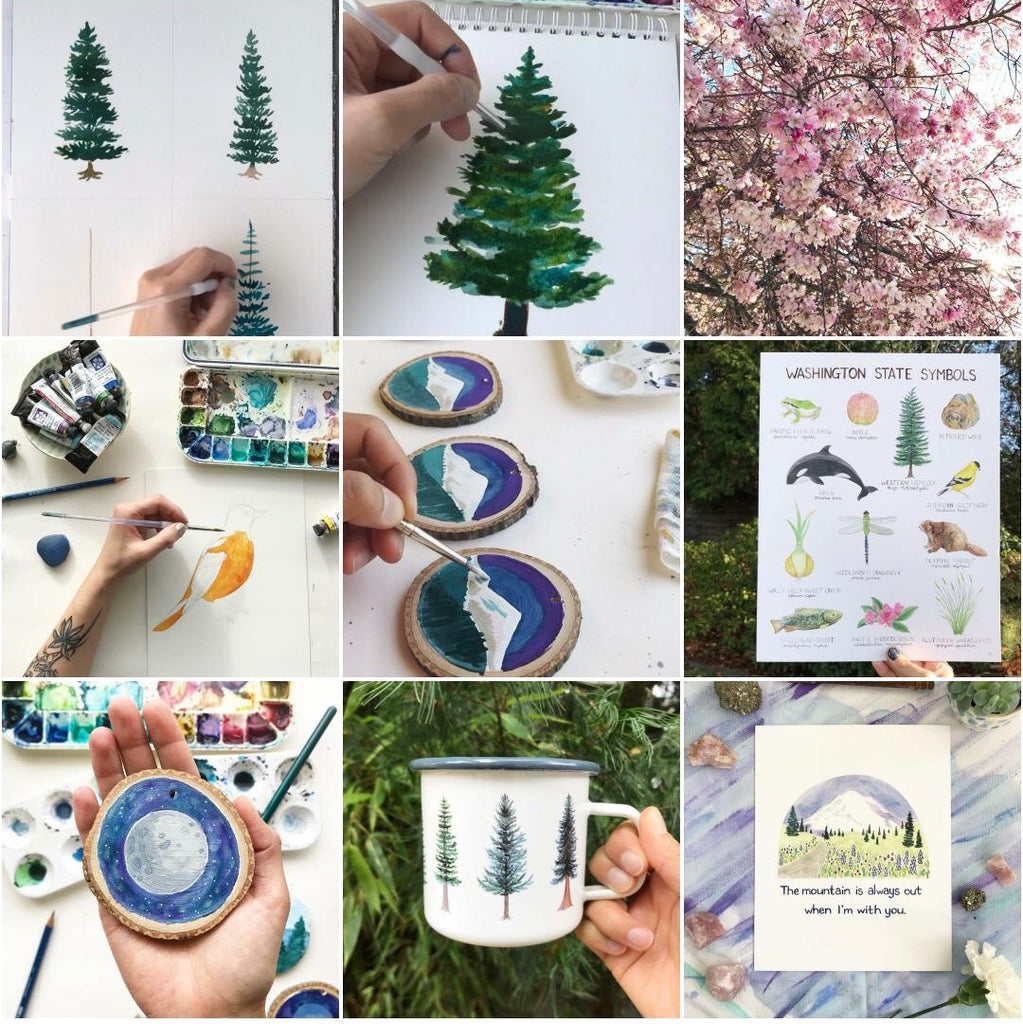 2018 was Yardia's biggest year yet, with continued growth drawing from a strategic business plan I created as part of my master's thesis at the end of 2017. At the end of each year I like to look back to audit and reflect on my progress (here's 2017). Thanks for your patience as I reflect on my many, many goals from 2018. 
Word of the Year:
My word of 2018 was magic. This year, I started to notice craving a particular color of deep purple, which after researching the chakra system, totally played into my need for more magic and spirituality in my life. Magic has been my favorite annual word I've ever chosen and it played out in so many ways, including:
My art taking on a more spiritual bent, with a distinctly purple tint creating a natural branding effect in my market booths.
Listening to my intuition in a deeper way through Tara Mohr's Playing Big facilitator's training.
Trusting my judgement in my tarot practice.
Spending more time in magical nature, particularly in Redwoods National Park.
Learning about and connecting with my personal heritage of pre-colonial Chamorro culture and spirituality.
Business Goals and Results:
At the end of 2017, I set specific business goals for Yardia in the process of developing a full (48-page) business plan. I know that some of my goals were surpassed by a crazy amount, some goals weren't met in the way I expected, and other goals became less urgent or relevant as the year went on. Let's dive into these, starting with my 2018 marketing goals. 
Marketing Goals for 2018:
Offer custom framing options to online retail customers by December 2018.

This goal wasn't met. I signed up to partner with an online framing company but never completed the process to set up options on my website. Although I'll probably explore this option again for 2019, I might instead focus on offering framed options for in-person sales, or explore other options further.

Order inventory quantities to meet wholesale profit margins per unit.

Check and check. I have a much better sense of how much inventory I need to order at a time now, both for sustainable profit margins and to avoid selling out too quickly. For the next year, I'll focus on developing better organizational systems for storing this inventory in my home studio, and deciding what can be discontinued.

Secure 6 new wholesale clients for a total of 18 accounts.

This is probably the most successful change. In 2018, I went from working with 12 wholesale clients to having my products being carried in 40 stores nationwide. A huge win! I look forward to streamlining my wholesale systems and providing even more personalized service to my wholesale customers in 2019.

Revamp website and transition to Shopify e-commerce platform by November 2018.

I made this change over the summer, after having a non-commerce website on Squarespace and selling only on Etsy. While I still see the value of maintaining my Etsy shop for search purposes, I couldn't be happier with how well Shopify meets my  e-commerce needs for the long run.

Increase Etsy visits and revenue by 50% in 2018.

My Etsy visits increased by 23%, and revenue increased by 30%. I'm still pretty happy though, since some of the traffic and revenue transitioned over to my main website instead of Etsy, creating an overall revenue increase of 51% for online sales.

Build a mailing list of 100 wholesale targets and mail catalogs.

I ended up taking a different approach to my wholesale outreach in 2018 than I'd originally planned, but I still met my goal. I emailed about 20 targeted stores each month, with follow up, and sent digital copies of my catalog. I think I may have a new plan for 2019, but I'm still determining my future course of action.

Grow social media (Instagram and Pinterest) communities by 5% per month, and maintain daily interaction.

As the year progressed, this goal resonated less and less with the evolution of my business strategy. I started the year with 945 Instagram followers and ended with 1506. I began to realize that what made more of a strategic difference to my business was to find ways to connect with others in a more personal way. I started blogging twice a week, sent out mailing list emails once a week, and used Instagram to share my brand's story without expectation of generating sales. I used Pinterest as an SEO strategy with my blog posts to drive traffic to my shop, instead of as a social media platform. I sense that some big changes to my social media strategy will continue to evolve in 2019.
Financial and Operational Goals for 2018:
Double the amount of time operating Yardia.

This was probably the biggest, scariest and most fulfilling change for Yardia in 2018. I've been operating my company as a side hustle to my primary job as a middle school art teacher. For the 2018-2019 school year, I cut back my teaching hours from full time to working three days a week. This allowed me to devote three full work days to Yardia and take one day a week fully off (well, except during the busy Christmas season, but I anticipated that). This was a great decision for me! It allowed me to grow my business more sustainably, and also brought me through previous teaching burnout to get to a renewed sense of creativity. I'm so happy I made this decision!

Increase revenue by 50%.

Okay, I grossly underestimated my revenue growth. After I met this goal pretty early on, I set a couple of increasing number goals for revenue, and then after I met those, set a profit goal instead. Without sharing actual numbers, the results were an increase in revenue by 145% and an increase in profit by 296%.

Salary and savings.

Because the original version of this goal felt so arbitrary, I completely shifted it after reading the book that changed my entire mindset and financial strategy on business accounting for 2018, Profit First by Mike Michalowicz. I set up my business accounting according to his system, and it totally worked for me to always have enough cash on hand for salary, taxes, operating expenses (including inventory purchases) and profit. I'll be able to give myself a raise in 2019 and my quarterly profit distribution will be paying for an upcoming independent art retreat I'll be taking in Oaxaca, Mexico. 
2018 Collections:
In 2018, I released three collections and a couple new product categories for wholesale.
In January, I released the California state symbols collection of art prints and wrapping paper, and the Self Care Rituals collection, featuring nature and magic-themed cards, art prints and wrapping paper. In August, I released the Coastal Collection, with new cards, art prints and wrapping paper, plus an additional wholesale collection for the holidays with two new camp mug designs and hand-painted wooden ornaments…both of which proved to be so popular that I struggled to keep them in stock!
Unexpected extras:
Yardia products were featured in print publications including the Seattle Times and Gift Shop Magazine. My chickens art print was also part of the set design in the feature film Instant Family. I showed my original paintings in two art walks, and hope to do more in 2019. I also started vending at more craft shows and night markets with great success, something I plan to make a priority in 2019.
And there you have my epic recap and reflection on Yardia's year in business for 2018. I'll plan to share my word of the year (and color!) for 2019 as well as my future business goals once they're set. I already have a few upcoming markets and collections in the works for the new year, so to stay in the loop, sign up for the Yardia mailing list. It will kick off with a free January digital calendar featuring one of my watercolor illustrations on the first. Don't miss out!